secondhandliar
Morning Sunsets and Evening Dawns
Hello! As of right now this site is very much a work in progress, and I haven't done any HTML in 8 years... so it's going to take some time.
I can't wait to get back into it though! Be sure to check back later on as I figure out what I want and how to set it all up.
In the meantime, I can (regretfully) be found here..
Here's a picture of my goat to enjoy since you're excusing my mess: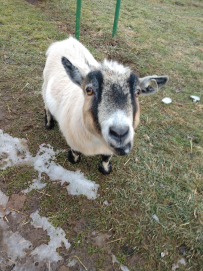 Some early site ideas?:
I love music, so probably some of my favorites, and if I'm feeling bold maybe some of my own stuff as well.
I write a lot, and I've always wanted a livejournal blog like the cool kids but my mom wouldn't have liked it. So maybe I'll do something similar here?
I'm sure plenty more as they come to me, this is more a fun starting hobby for right now and not anything serious.
Hosted by Neocities(thanks!)